Country Education Foundation grant and scholarship recipient turning her passion into action
28 Sep 2021
We talked to Heaven, a CEF grant and scholarship recipient, about how she is turning her passion for history into a teaching career and how CUC Far West has helped her find her study rhythm. Heaven has taken full advantage of all the regional education support offered in the Far West, by applying for and receiving a Country Education Foundation (CEF) grant. We find out more about CEF grants and scholarships, and how you can kick start your learning journey with some help from the Country Education Foundation!
Why did you choose to study your degree and what do you enjoy most about it? 
I chose my degree because when you're growing up everyone always tells you to do something you love, well that's what I'm doing. I love learning about the history of the world, it takes you everywhere and you can form connections with places that you never dreamed of, and I think that is cool. The thing I enjoy most about my degree is that I am opened up to new ideas and perspectives about new topics I wouldn't get to know otherwise.
What are you passionate about and what do you hope to do with your degree?
I am very passionate about history, and I have always wanted to teach. When I was younger, I wanted to teach primary school children but after being in high school and getting to take history as a subject, I knew that I wanted to teach history to high school students.
What challenges have you overcome on your learning journey?
My learning journey has been tough so far, it has been an adjustment just getting back into study again but also having the freedom to create your own structure, while it is fantastic, it is hard to motivate yourself to stick to when you can't physically be in the classroom. But after a couple of weeks of adjustments I did find a rhythm that suited me. The CUC centre has really helped because they give you somewhere to go that is a designated study area where you have no homely distractions.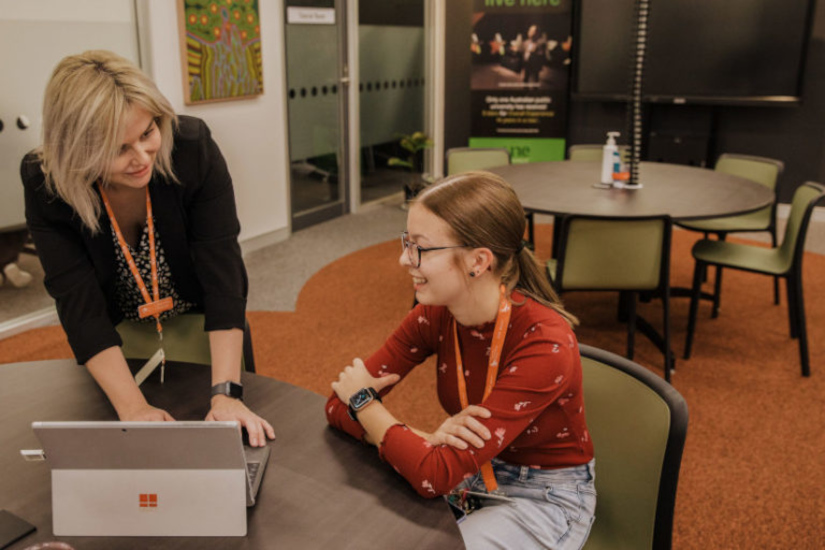 Picture: Heaven Celotto is studying a Bachelor of Arts, majoring in History and Archaeology, through the University of New England. Heaven is a CEF Far West NSW grant recipient 2021 and an Audi Foundation CEF scholarship recipient 2021.
What strengths have you developed during your time as a student?
It doesn't seem like much but my organising skills, although were good before uni, have greatly improved since I began. I can find reputable sources in 2 seconds flat and reference with no troubles, again it's the little things in life. I feel more confident in my abilities and my management strategies.
Do you have any advice for other students in regional and rural communities considering higher education?           
My biggest piece of advice is finding a routine that works for you and sticking to it. I find it so much easier to motivate myself to go and study if it's part of my weekly plan, having guidelines for my day helps and planning a reward for yourself after you have finished studying is always helpful. Also, I really recommend the CUC centre or somewhere where you feel productive to study, because being in the right environment really helps my productivity.
What has surprised you most about studying university online?
One thing I was worried about before entering university level studies was how they would expect you to write and how classes worked. Once I started though, I realised that high school prepared me well for the expectations of university which I think would comfort a lot of people, but also if you still aren't sure the universities have so many fact sheets and aids to help you with any questions you have which has been super helpful for myself being so far away from campus.
Apply for a CEF grant and scholarship!
What is the CEF?
CEF is a not-for-profit organisation helping rural and regional youth access education, training and jobs through grants, scholarships, support services and resources. CEF assistance is managed and determined through local grant programs so you will need to apply directly to your local CEF foundation. To discover which CEF foundation is your local click here.
Who is eligible?
CEF grants are based on need, not academic success. Here are the four selection criteria:
You have a demonstrated financial need
You are aged 16-25 years
You have attended school in/ currently live in the region covered by your local CEF
You are able to demonstrate commitment to achieving your goal.
When to apply?
Grant applications are generally open during the second half of each calendar year however each local foundation has their own grant cycle dates for consideration. Please check the closing date for your local foundation on the CEF website.
How to apply?
CEF and CUC!
Country Universities Centre are proud partners with the Country Education Foundation. We are united in our drive to empower rural and regional communities and to support young students who aspire to achieve further education after high school.
Want to register with your local CUC?
Registering with your local CUC is free and provides you with a quiet, dedicated space to study – Register here!