Country Universities Centre Bass Coast Opens in Wonthaggi
06 Apr 2021
The Country Universities Centre (CUC) Bass Coast was officially opened on March 26th, 2021. The event was headlined by several guests, including the federal Member for Monash, Russell Broadbent, and Bass Coast Shire Council Mayor, Cr Brett Tessari, who joined the local CUC Board and community members to celebrate the opening of the Centre.
The CUC Bass Coast is located at 21-23 Baillieu Street, Wonthaggi and has been refurbished to provide a positive and vibrant learning space for local students to focus on their studies.
The Australian Government has committed $1.32 million, including $480,000 for capital works, to establish the Centre. The hub will provide students with access to study spaces and technology like computers, high-speed internet, and video conferencing equipment to assist with their studies.
Mr Broadbent said that the newly opened Centre would give local students unprecedented facilities and support, which will play a crucial part in enabling students to succeed in higher education.
"State of the art facilities like the CUC places Bass Coast amongst the most preferable regional locations around the nation to both live and work," Mr Broadbent said.
"This dedicated learning and study space has been designed for regional people by regional people. It has a team of local community champions behind it who will ensure local students have access to the technology, high-speed internet and academic support, which will allow its students to thrive and succeed in their studies."
"I happily threw my support behind this project, as it will support local higher education students as they navigate through their higher education, without having to leave the region."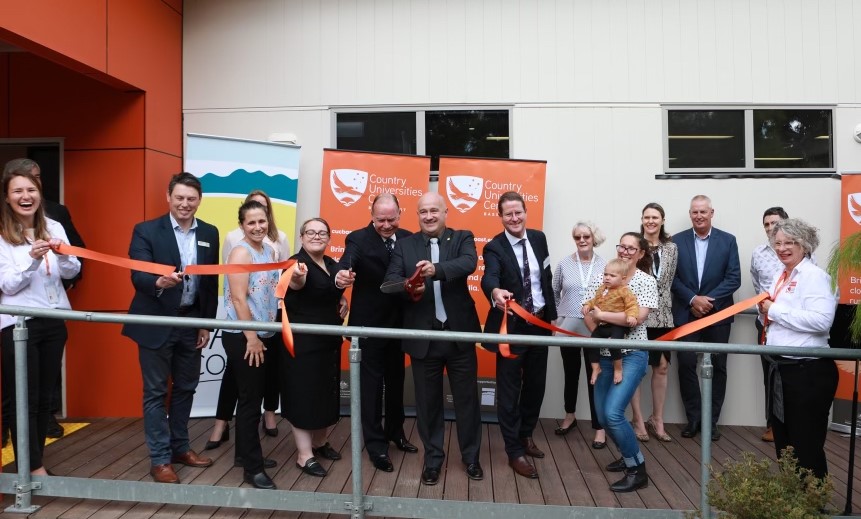 CUC CEO, Duncan Taylor, acknowledged the significant contributions towards the establishment and operations of the CUC Bass Coast from Government.
"We are very grateful for the support we've received. Without the federal funding and Council support, we wouldn't be standing in the CUC Bass Coast today," Mr Taylor said.
"Importantly, our CUCs are community-driven and managed. We also want to thank and recognise the Bass Coast community to which this Centre belongs.
"Without our community champions, the volunteer board members, our amazing Centre Manager, we wouldn't be here celebrating today."
Cr Brett Tessari said that the establishment of the Bass Coast CUC in Wonthaggi is wonderful news for the local community.
"Council has been involved in this project since its inception, so it is great to see the Centre up and running," Cr Tessari said.
"Sadly, students from Bass Coast and South Gippsland are currently less likely to complete year 12, less likely to go to university and less likely to complete a degree, when compared with their metropolitan counterparts.
"We look forward to changing these statistics. Having this Centre in Wonthaggi will open up some amazing opportunities for students across Bass Coast and surrounding areas. It is a game changer for the whole region," Cr Tessari concluded.
The Chair of CUC Bass Coast, Martin Keogh, said the opening of CUC Bass Coast is a major milestone for the community of Bass Coast and beyond. It is the culmination of community investment and the work of many stakeholders.
"The official opening provides an opportunity to acknowledge the support of the Federal Government and the leadership shown by Bass Coast Shire Council. Working alongside CUC Central, CUC Bass Coast looks forward to contributing to reducing the gap in higher educational opportunities for regional students," Mr Keogh said.
With the announcement of Regional University Centres funding in June of last year, the CUC will open six Centres, across seven new locations. The CUC's network will expand in regional New South Wales, Queensland and Victoria.